Officials cite economy, aging population for increase in ambulance calls
Officials cite economy, aging population for increase in ambulance calls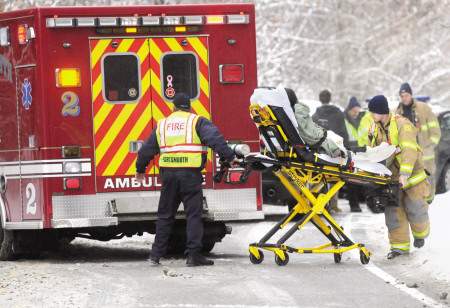 PORTSMOUTH — After a decade of averaging about 4,000 ambulance calls a year, fire officials report an increase in ambulance transports attributed to the lagging economy and an aging population.
Assistant Fire Chief Steve Achilles said the fire department had 432 more ambulance calls in 2010 than it did in 2009 and the reason is "twofold."
First, he said, more people are using an ambulance as their primary access to health care because they're underinsured or uninsured. That increase was revealed while the fire department wrote off transport debts for people who couldn't afford to pay the bills, he said.
While studying recent requests for services, Achilles said he also found a growing number of calls for ailments which may not have been reason to summons an ambulance in a better economy. Examples during 2010 included 77 calls for abdominal pain, 139 calls for general sickness, 453 calls for falls, 28 lift assists and 111 responses to medical alarm activations.
Another local link between a weak economy and ambulance calls is that some residents can't afford to refill their medications which exacerbates their existing health problems and requires more trips to the hospital, said Achilles.
Another factor increasing ambulance calls is an aging population, said Achilles. In Portsmouth the average age of a person transported by ambulance in 2010 was 58 and 60 percent of ambulance calls were to transport someone over the age of 55, he said.
Meanwhile, national data shows older people and people on Medicare are more likely to go to an emergency room by ambulance, said the deputy fire chief. And in Portsmouth, an ambulance is more likely to be dispatched to a senior housing complex than another address, he said.
Achilles said he wants residents to understand that if they have a medical call they can't handle on their own, they should phone for an ambulance.
"That's what we're here for," he reminded.
Taxpayers are invited to offer comments during an April 4 hearing for the purpose of deciding whether to designate an additional $80,000 to the fire department budget to keep a second ambulance rolling for the remainder of the fiscal year.
By a March 21 vote of the City Council, $14,000 was allocated from a supplemental appropriation fund to staff a second ambulance for the two weeks leading to the public hearing. City Manager John Bohenko said that he'll present a resolution during the April 4 hearing for the additional $80,000 needed to staff the ambulance until June 30.
A two-thirds vote by the Council is needed for the funds to be allocated from the city's fund balance account.